5 LB AFRICA MIX Lg 1" Bulk Rough Rock Tumbling Tumbler Stones 11,000+ carats FS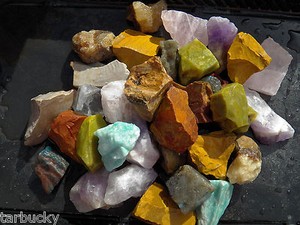 ---
DESCRIPTION:

 

ITEM: Rough Tumbling Rock

STONE: MIXED STONES

SIZE: average 1 to 1 1/4"

WEIGHT: 5 pound

ORIGINATION: AFRICA: Madagascar, South Africa

COLOR: MANY

This is a beautiful mix of various African rough rock. 

 

You will receive a minimum of ten different kinds of stone.  They could be, but are not limited to the following:

Girasol Opal, Amazonite, Rose Quartz, Green Opalite, Labradorite, Sea Jasper, Desert Jasper, Mountain Jasper, Picture Jasper, Brecciated Jasper, Zebra Jasper, Amethyst, Petrified Wood, Rhodonite, Blue Apatite,

Chrysocolla, Kambaba Jasper, Red Jasper, Yellow Jasper, Rose Quartz, Blue Quartz, Red Aventurine, Fire Quartz, Chrysoprase, Punjabi Stone, Carnelian, Madagascar Agate, Septarian

 

The stones in the photo are representative of the stones you will receive.  Your stones will be chosen from the same shipment the stones in the photo are from.

The stones were photographed WET to show the richness of colors after the stones are polished.

 

 

 

 

SHIPPING:

This item will ship Free in the US

As always, if purchasing more than one item, please WAIT TO PAY  / "Request Invoice from Seller" to allow me to enter the correct postage amount or you will usually be overcharged.

 

INTERNATIONAL BUYERS: You must allow a minimum of five to six weeks for delivery. I will ship right away and it will reach your country in two or three days. It then can take five to six weeks to go through the customs process and be delivered to you. If you order between the first of September and end of December, please add a week or two to the delivery time.

INTERNATIONAL BUYERS: The seller is NOT responsible for any customs or duty fees associated with your purchase. It is against rules to ask the seller to mark the package differently that what it actually is or mis-mark the value of the package. It is also against rules to hold the seller responsible and threaten or leave negative feedback because the seller will not pay your customs or duty fees. Any buyer that treats the seller in such a way will be reported to . It is the Buyer's responsibility to know and understand the rules and regulations of your Country concerning importing goods.

15% restocking fee will be subtracted from any returned product balance due.  Any item originally sent with FREE shipping will have the actual shipping cost the seller had to pay subtracted from any balance due.

Disclaimer: The information regarding metaphysical and other properties and purposes of these stones is provided for entertainment purposes only. It is not intended for diagnosing illness, prescribing treatment, or advice and should not replace proper medical attention. Consult your Doctor or other health care practioner regarding health issues. We are not liable for any use or misuse of this information

Powered by Turbo Lister The free listing tool. List your items fast and easy and manage your active items. Dear Buyers, as of September 25, 2018, payments are handled directly by , not paypal.  I'm sorry but there is no longer a way to send partial refunds when you pay too much for postage.  If you want to make a large order with one shipping charge, contact me through messaging with the items and your zip code and I will make you a special listing for those items and one shipping charge.  Since this is a new process, hopefully will fix this glitch, but until that happens you need to follow the above instructions.  Thank you for shopping with us.  Sister's Rocks LLC / Fundamental Rockhound products.